---
Collection
Visit our collection page to view and contribute to our collection of paper sharks from around the world! Show your support for shark conservation by uploading a photo of your own origami shark!
> Collection Gallery (submitted by visitors from around the world)
---
One Thousand Paper Sharks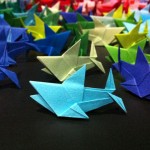 Paper Sharks is a project inspired by the traditional Japanese story that folding 1,000 paper cranes (千羽鶴) will make one's wish come true … come see what the 1,000 paper shark (千匹鮫) project is all about!
---
Paper Sharks in Action
Visitors are invited to share photos of paper sharks in action! Help inspire others to make a difference by uploading pictures of your special events, campaigns and group activities!
---